The Kelly armour, in Ned's own words, " the Armour means we can come out into the open" meaning the gang could leave their home in the ranges.

The armour was to strengthen an armed rebellion, "The republican of North - Eastern Victoria" A fantastic plan which came so close to succeeding. It was bullet - proof at 15 yards, and was extremely heavy.
You can imagine it would have been quite heavy for these slimly built youths.
WHO'S IDEA WAS IT?
The idea, well , as far as we know came from Ned's favourite book, "Lorna Doone" in which American outlaws, wore armour on breast and head.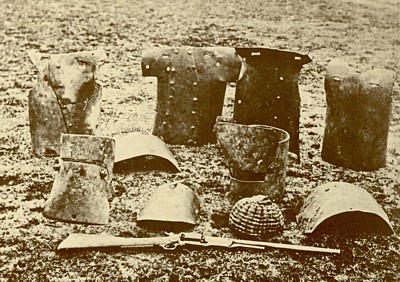 Another suggestion is from the Chinese armour, which has close connections with the Kelly armour. They look very similar.
WHO MADE IT?
Their are many different views on who made, or even where and when. Strong beliefs are that the gang built the armour, over hot coals, beating it over a log to get shape.
There will always be disputes on who made the armour, some say a blacksmith some say the gang.
In a way the armour did serve its purpose, but it made movement very difficult, and riding a horse - virtually impossible.
It was made to protect the gang from bullets, and it did, Joe was the only one, who, was hit through his armour.
The armour will continue to be one of Australia's National symbols, if you need anymore information on the Kelly armour, please don't hesitate to email