This month we will talk about a region, in the midst of the thick mountain country loved by Ned so much, the area where Ned lived, loved, breathed and battled, the town in this wild, outlander country the beautiful quiet little hamlet know as Glenrowan, or more commonly known as " The place where Ned Kelly was captured "
Ned Kelly fell here at Glenrowan on June 28th 1880, and was taken to Melbourne to be tried & convicted, sentenced to the death sentence, by a heartless, cruel, monster for a magistrate or judge named Sir Redmond Barry, I do not like to refer to this beast as a sir, but I must call as history tells it.
The Glenrowan " Tourist strip " is the main road by the name of Gladstone street, there are numerous food outlets and two may I say excellent souvenir stores, Glen Rowan Cobb & Co & Kate's Cottage.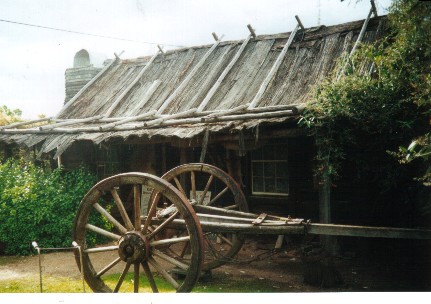 Above is the replica Kelly homestead at the back of Kate's cottage Glenrowan more info please contact Kate's cottage on Australia ( 03 ) 5766 2448 A must for anyone to this fine region !!
The Kelly Country as proclaimed, is still scared quite severely especially, Glenrowan, and there are many sites in the midst of these attractions. One for instance is the Ned Kelly statue erected by Kate's cottage and stands up to it's large shadowing figure of six meters.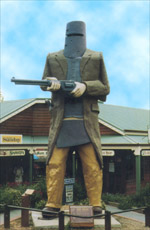 The big Ned Glenrowan.
The Warby ranges are another of the Kelly gang favorites acting as their hide-out through the tough times of on the run days. And who could forget, Bob Hempel's animated theatre which is an over priced, in correct account you are better going to Ned: the exhibition. Also is The amazing siege site where the Kelly gang took their final toll on the colony, this historical, energy filled plot of land is a great place to stop over. In this you can feel the power of the Kelly gang fighting it out against an army of police.
There is also a motel, Kelly Country Motel situated on 44 Gladstone street Glenrowan which is the top value place to stay and also unbelievably cheap ! more info please phone ( 03 ) 5766 2202 or check out our tourism section.
I will sign off until next month for the next report, as I quote from a broacher in Glenrowan
Come visit Glenrowan, we would love to see you
For more info on Glenrowan, or Kelly Country check out our tourism section or email mike for more.
e-mail Mike: mike@thegretamobinside.cjb.net
e-mail Dave: lama@thegretamobinsider.cjb.net