KELLY IN MAGAZINE, old, new and good and bad magazines I will review, for your enjoyment so you may get the best for your buck! or your kid's!
BOLD NED KELLY
by Johnson and Turner
First published in 1977 by The Jabiru Press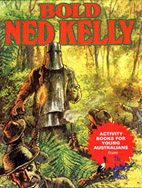 This magazine is very easy to get your hands on,as the introduction says "Activity books for young Australians which are carefully designed for children between the ages of 8 and 11 to stimulate their interest in the country in which they live by encouraging them to participate directly in the discovery of information about it" A good Kelly magazine for young childeren,and some good pictures for the kiddies to colour in.


NED KELLY IN PICTURES
Les Carlton
First published in 1980 by Southdown Press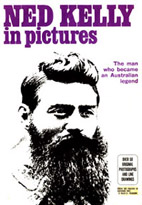 > REVIEW COMING SOON.
NED KELLY CENTENARY FESTIVAL
Festival director Peter Gavin
First published in 1980 by New Chum Promotions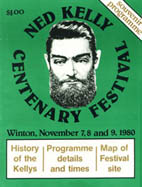 This magazine is awesome, its great, published in

1980 celebrating the 100 year siege of Glenrowan badges were also able to be purchased during the day.... This is an excellent piece of Kelly Magazine.