The 1980 mini-series, was the most accurate version of the Kelly story written by Mr Ian Jones and his wife,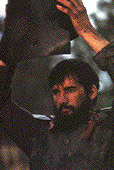 a well put together story and John Jarret as Ned, played a very believable part, it also starred; Steven Bisley as Joe Byrne, Sigrid Thornton as Kate Kelly, David Bradshaw as Wild Wright, Lewis Fitz-Gerald as Tom Lloyd, Elaine Cusick as Mrs. Kelly, Peter Hehir as Aaron Sherritt and Gerard Kennedy as Harry Power.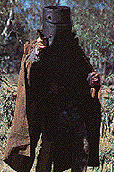 The tale begins with Harry Power, then Ned joining him, and then it takes off from there and excellent film and well put together, you see Joe Byrne strung up at the Benalla lock up, you see it all, historically accurate, fun to watch and very educational.
There are strong rumours that there may be a re-release of the Last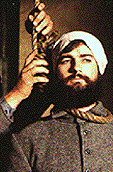 Outlaw which one will be able to buy on VHS and DVD .
The last outlaw series runs for eight (YES eight!) hours over a four series episodes of two hours each, it originally screened on channel seven during the spring of 1980.
It was filmed in the Seymour area, and now, a copy is very hard to obtain, this movie deserves a five out of five Ned's for this wonderful film!


The 1990 film released by Yahoo Serious was the biggest most un eccentric movie of all time. This film makes Mick Jagger look like the real Kelly. This film was so unbelievably just bull shit, there is no real way to explain it.
I can try to give you an account of the ghostly recollection. Ned "Yahoo" Kelly , and his family live on a remote desert island, called Glenrowan (what can I say?) and robbed banks and hands the loot over to the poor. While robbing a bank in outer Sydney, he meets a half hearted, Shakespeare reading , American, whom couldn't get a job as a hot-dog seller then a bank manager as in the film, meets Ned and falls in love.
The bank managers eventually band together to takes Ned's "Wilderness" as Ned's girlfriend recalled in an American tone. The bank want one million dollars for the return of the national park, so Ned heads for the U.S.A to rob a bank and return home to buy the island.
His un successful attempts to rob an American bank, he heads home to fight it out at the Glenrowan hotel as on his island, he wins the fight and wins the glory of this disgusting film.