Keith McMenomy has been responsible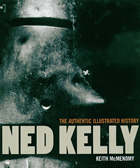 for the book many students of the Kellys consider to be the ultimate-" Ned Kelly- The Authentic Illustrated History". This large "doorstop" of a book was first published in 1984. Last year, it was

revised and revamped and released by Hardie Grant publishers. An excellent book was made even better. The author, despite a busy schedule, kindly consented to briefly answering several questions in relation to the Kelly story via E mail for this site. Mike and I are pleased to present the results.
Did your work in the field involve really getting to know the descendants? Who made the most impact on you?
1) The most remarkable of many descendants I met over the years was an elderly Bridget Griffiths, nee Reardon, later of Benalla, who had been carried from the Glenrowan Inn by her father and narrowly escaped being shot; a hole through the shawl covering her as evidence. Two Lloyd descendants also impressed me greatly. But in fairness, I have met admirable descendants of family, sympathisers, and police involved in the saga. Most wished to avoid attention and were wisely suspicious of 'interviewers', taking time to trust one not to exploit the contact.


Do you have any further work on the Kellys looming on the horizon? If so, in what format?
2) I have other aspects which I could develop on the Kelly story, but other projects must take priority for the time being.
Apart from Ned himself, who do you rate as the most interesting or significant figure in the story?
3) There were many fascinating, larger-than-life characters involved in the Kelly tragedy. I would not single one out. Ellen Kelly, Maggie Skillion, Kate Lloyd were significant. Tom Lloyd junior, 'Wild' Wright, Aaron Sherritt and Joe Byrne, Ned's uncles John and Jimmy Quinn were influential. But of course, Ned was the one with extraordinary, national significance.

In regards to the permanent Kelly museums in Kelly Country, who does the best?
4) I think there is yet to be established an adequate, permanent Kelly museum exhibition and I hope 'Ned: The exhibition' finds a long-term venue. Beechworth might be the most appropriate location.
In your latest edition, you left out Manning Clarks introduction. Why?
5) In regard to Manning Clark's introduction, while I greatly valued his comments, we (publisher and I) felt that as it was a revised edition (some chapters re-written) - not just a re-print, and in addition Professor Clark had died, it was not appropriate to include it again.

Your thoughts on Ian Jones series "The Last Outlaw"(1980)?
6) The 'Last Outlaw' series by Ian Jones of 1980 was an uncanny re-creation of factual accuracy - admittedly based on one historian's perspective - but one which could only be created by someone dedicated to the subject over so many years. And evidently put together by someone with a stunning memory for references!

Which actor would be a great Ned? Heath Ledger?
7) Pass on that one. I am not to date on actor's identities.
Do you think Aaron Sherritts grave should be marked?
8) I am still not sure where Aaron's loyalties really were (despite an excellent book by Ian Jones) but in any case he did not deserve that horrifying death, and his grave should be marked impartially.

Why do you think Joe Byrne killed Aaron Sherritt?
9) It seems clear to me that Byrne was convinced that Aaron was betraying them.
Gary Dean and others, are of the opinion Dan and Steve escaped from Glenrowan in 1880? Where do you stand on this?
10. I think all claims so far of Dan and Steve having escaped Glenrowan are fanciful. Apart from transparent lack of hard evidence, as Jim Kelly pointed out many years ago, not one of the claimants has ever approached the family, as you would expect, if they were genuine.

What do you think of the work Edgar Penzig has done on the Kellys?
11. Pass on that one, but I must acknowledge that Edgar has helped with pointing out some of my small errors.

Has your interest in Ned filtered through to your family?
12. Not that I am aware of.

Apart from your book, is there a legacy you would like to leave on Ned?
13. As, I said in the book, I believe all those involved in the Kelly tragedy from both sides, still deserve a fair hearing.

Favourite Kelly photo? And is it genuine?
14. Why would I favour a Kelly photograph that was not genuine? I left out some of my collection, because suspect, and later dropped pieces when they turn out to be bogus or significantly doubtful. For example the picture claimed to be 'Jim and the Mrs', who I assumed meant Mrs. Kelly, and the portrait said to be young Alex Fitzpatrick, eventually discredited by the portrait preserved by Constable McIntyre which replaced it in my second edition. I do not have a favourite Kelly image, but if I did it would be a toss-up between the Nettleton plates of Kelly in his last hours and the boxing portrait.
Favourite Kelly relic?
15. The green sash.

Do you think the Gaol door in Benalla Pioneer museum that held Joes dead body is authentic?
16. Have not studied it and compared with photographs.

Your thoughts on Bob Hempel's animatronic show at Glenrowan?
17. Not my 'cup-of-tea' but I am sure it entertains.

Which of the towns in North East Victoria holds the biggest claim to Ned and the gang? Does the region do a good job for the tourist?
18. While Benalla and Wangaratta are attractive and well maintained, I think that without exception Beechworth is the most beautiful old town I have visited in country Australia. It would get my vote for a Kelly or any other historical/colonial venue.

What do you hope to see in the future in terms of relics coming to light, museums, memorials, published works?
19. I am always amazed how new material keeps coming to the surface. It is possible that more substantial evidence of the North Eastern Republic proposal, and other issues, will someday come to light.

What do you think of our "Kelly Outbreak" site?
20. I am also amazed at the enthusiasm and effort that goes into web-sites like 'Kelly Outbreak' and 'Iron Outlaw'. As long as they encourage responsible scholarship and discourage rat-bags, I am all for them. They are an interesting medium to invite worthwhile contributions, add to our store of knowledge and inform us all. - thanks Keith - Mike the webmaster

Apart from your own, best Kelly book?
21. Put too briefly, I feel that Kenneally's partisan account - 'The Inner History...' - now very dated in some ways - was a milestone text which vividly brought alive the family's side of the story, as Max Brown achieved more eloquently in his 'Australian Son' some years later. Ian Jones has given us the most detail and added more knowledge to the story than anyone in recent years. And John McQuilton has given us the most impressive academic study to date.

What did you think of "Ned:The Exhibition" at the Old Melbourne Gaol?
22. Brendan, Matt and Ian did a stunning job against significant odds to mount such a comprehensive exhibition, drawing in new material which might not have come to light otherwise. While my book might have initially inspired their exhibition, their proposal probably helped inspire Hardie Grant to publish my revised edition. What is the old saying? - what goes around, comes around.

Your favourite Kelly site is………..?
23. I need more time to assess!
<! --------- Begin WWWToolz Form-2-Email Code --------> <! ---------- End WWWToolz Form-2-Email Code --------->

<! --------- Begin WWWToolz Form-2-Email Code --------> <! ---------- End WWWToolz Form-2-Email Code --------->