W E L C O M E H O M E N E D
On Ned's release from prison, while having drink at the Imperial pub in Beechworth, meeting Wild Wright there are 20 round bare knuckled fight for sending Ned to prison for the ' borrowed ' mare. In which case Ned Kelly one.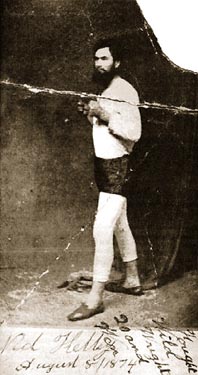 A rare photograph of Kelly after his 20 round bare-Knuckled fight against Wild Wright August 8th 1874.
On his release from prison, Ned had sworn to never return to prison again and on his return home, he found that many things had drastically changed.
All of his horses were stolen by Greta's local Police officer, Constable Flood, but he did not act, he wanted to stay on the side of the authorities. Also Ned's mother Ellen had given birth again the father was to be Ned's step-father George King, also Annie Ned's sister had died during child birth which shook Ned up quite badly.
Ned soon wanted to pay Flood back in a partnership with his step-father George King, Joe Byrne, Aaron Sherrit, Dan Kelly just to name a few, were stealing cattle and horses to stay alive. Ned had once bragged they had stolen over 200 head of horses by the end of 1877.
But the police net was closing in, and some severe consequences were heading there way.