NED THE TOUR - THE SUNDAY AGE MAY 19TH 2002
The Age newspaper made an excellent summary of the very first 'Ned Tour' Which I (Mike for people who don't know who I am for more information on me check out my why a Kelly gang site?) attended in May 2002.
The report highlighted everything I saw on the very first Ned Tour. Even I as mentioned in the article, the editor, John Elder, wrote that " Perhaps the greatest surprise is Mike Lawson, a 15 - year - old from Broadmeadows, he discovered Ned at the age of 9 and runs his own Kelly website, (www.kellyoutbreak.dot.nu ) Like Pearse and Shore, Mike Lawson wants to make Ned Kelly his life's work. His parents are moving the family to Glenrowan to help him get started. And that's only what you hear over a cup of tea."
Ned: The Exhibition in conjunction with Ned Tours proudly presents Ned: The Tour. For three weekends only: April 27th to 28th, May 11th to 12th, and June 1st to 2nd. Stopping at all the major Kelly Gang Sites, including:
Beveridge - Ned's birthplace, only surviving Kelly home and Ned's first school
Avenel - Location of Richard Shelton rescue, Kelly farm
Benalla - Courthouse, Bootmaker's shop, Joe Byrne's grave (Benalla cemetery)
Glenrowan - Scene of Ned Kelly's last stand
Greta - Heart of Kelly Country, Police station, Oxley flats
Beechworth - Site of Ned's boxing match with 'Wild' Wright, court house, etc.
and much, much more!
Package Includes:
• Transportation on luxury Mercedes Benz coaches, including video presentation
• Regular convenience stops
• Twin Share accommodation on b&b basis
• BBQ lunch on Saturday
• Two course dinner Saturday night
• Morning / afternoon tea and lunch Sunday
• Ned: The Exhibition Limited Edition Kimberley Jacket and cap
• Expert Tour Guides
• Information pack including photographs
• Centrally located pick-up point
Only $299 per person plus GST. Single supplement / provision to share. Bookings are absolutely essential. Further details, please call:
SUE BARNETT TRAVEL
89 WHITEHORSE ROAD
BALWYN VICTORIA 3103
Telephone: 03 9816 9922
Fax: 03 9816 9122
Email: suebarn@connexus.net.au
Licence no. 30134

NED IN KELLY COUNTRY - AGAIN! - 20/04/02
For those of us on the run who don't have time to stop and have a detailed read on all recent aspects of the Kelly saga, this page will contain ALL the latest at a glance and will be updated regularly. If there's anything we miss, please yell out-loudly!!
Ned: The Exhibition at the Old Melbourne Gaol continues to draw large crowds. In Russell St, the show will go on until July. The catalogue, by renowned Kelly author Ian Jones, can be purchased at the Gaol, Kates Cottage in Glenrowan and Tapsells books in Beechworth.
The new Kelly movie is currently lensing in Kelly Country itself-in the Warby Ranges near Wangaratta. Interiors are to be filmed in Box Hill later in the year. Initially, movie was a straight adaptation of Robert Drewes book, "Our Sunshine". Ian Jones tells me now the movie may be an amalgam of "Our Sunshine", Peter Careys "True History of the Kelly Gang" and Ian Jones own "Ned Kelly- A Short Life". Let's hope whatever shape the script is in, Heath Ledger does a good job!! Incidentally, although it hasn't gone down well with a lot of Kelly fans, Ian liked "Our Sunshine" and said it captured an atmosphere very effectively.
"Ned: The Tour" kicks off shortly too! At this stage, there will be 3 coach trips run to Kelly Country,leaving from Old Melbourne Gaol, bookings essential.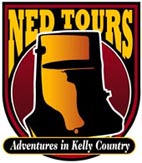 Week-end dates are 27th April, 11th May and 1st June. All the major Kelly sites will be visited in Benalla, Beechworth, Greta, Glenrowan, Beveridge and Avenel. Contact Sue Barnett Travel Agents at 89 Whitehorse Rd. Balwyn Vic. Ph: (03) 9816 9922. E mail suebarn@connexus.net.au.
The "Gentleman Ned" photo recently sold at Christies Auction for nearly $20k continues to be the subject of debate. You decide! Is it Ned? Send us an E mail. The photo has not been widely published but can be seen at Ned: The Exhibition and on the cover of recent Christies Catalogue, an excellent reproduction. The Beechworth studio photograph was taken during the time "Ned Kelly went straight". (And that doesn't mean he was gay!)
Next "Ned book" from Ian Jones is a look at The Last Stand, through the eyes of Thomas Carrington, a newspaper artist of the day. Probably his most well known Kelly image is "Ned Kelly at bay". A re-issue of Ians "The Friendship that destroyed Ned Kelly- Joe Byrne and Aaron Sherritt", is soon to be available under the title "The Fatal Friendship" (whew!). This excellent book looks at the relationship between gang member Joe Byrne and his life long mate Aaron Sherritt and the almost demented vigour with which they operated.
Ned continues to make the news in Adelaide. "Neds Emporium", a discount "dollar dazzlers" type chain in SA continues to thrive, sporting a brown and gold cartoon depiction of Ned in armour as its logo. "Ned Kellys Retreat", a restaurant in the northern suburbs has now been with us for 2 years and is decorated with replica armour and posters from Kates Cottage. The food is adequate but it's the theme that draws the patrons. The director of the South Australian museum said recently 2 of Australias greatest icons, Ned Kelly and The Man from Snowy river are not uniquely Australian. He says they were merely acting out foreign dramas with an Australian back drop. Instead, he paid tribute to farmers who "carved a niche in in our harsh conditions and adapted to the land." And so the debate continues.
Stay tuned!