The 1990 film released by Yahoo Serious was the biggest most un eccentric movie of all time. This film makes Mick Jagger look like the real Kelly. This film was so unbelievably just bull shit, there is no real way to explain it.
I can try to give you an account of the ghostly recollection. Ned "Yahoo" Kelly , and his family live on a remote desert island, called Glenrowan (what can I say?) and robbed banks and hands the loot over to the poor. While robbing a bank in outer Sydney, he meets a half hearted, Shakespeare reading , American, whom couldn't get a job as a hot-dog seller then a bank manager as in the film, meets Ned and falls in love.
The bank managers eventually band together to takes Ned's "Wilderness" as Ned's girlfriend recalled in an American tone. The bank want one million dollars for the return of the national park, so Ned heads for the U.S.A to rob a bank and return home to buy the island.
His un successful attempts to rob an American bank, he heads home to fight it out at the Glenrowan hotel as on his island, he wins the fight and wins the glory of this disgusting film.
To view a real Kelly film check out or THE LAST OUTLAW review and get the real thing !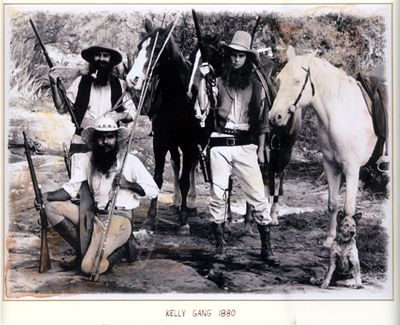 Supposedly the Kelly gang in 1880. Ned 'Yahoo' Kelly next to bloke in white horse suit
Supposedly the Kelly Gang 1901 (now with get-away bikes)
Ned 'Yahoo' Kelly armed to the teeth standing behind bloke in dog suit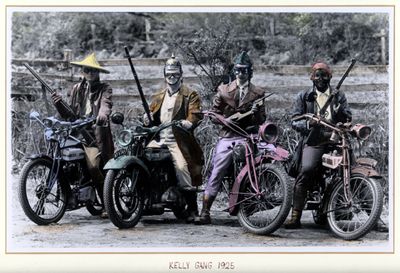 Supposedly the Kelly Gang 1925 (gets motorized)
Multicultural Kelly Gang rebels against conservative government's White Australia policy.
Seen here - Chinese Kelly, German Kelly, Irish/Scottish/bit-of-everything Kelly and Aboriginal Kelly. Ned 'Yahoo' Kelly with 'don't-laugh-at-me-deadly' sub-machine gun seated on a bloke in pink motorbike suit.
Supposedly the Kelly Gang 1968 - Hippy era
Ned 'Yahoo' Kelly in tasteless flared pants, joint and high powered rifle. In sidecar - Aboriginal Dan Kelly with hippy beads and shotgun.