T H E M Y S E R Y O F T H E F I T Z P A T R I CK A F F A I R
In April 1878,Constable Alexander Fitzpatrick paid a visit to the Kelly home, supposedly to arrest Dan, but he had been drinking, and all his affections were to Kate Kelly. In this incident, he assaulted her, and Ned And his Mother were charged with attempted murder.

Fitzpatrick reached at Kate Kelly. Dan knocked him down and, a fight had erupted, the trooper's gun went off and he cut his wrist on the door-latch. Mrs Kelly bandaged his wrist and he was invited to have dinner with the family. On his way back to the police station, Fitzpatrick had another drink at the tavern. He then told a complete load of dust, to his higher ranks that Dan Kelly had resisted arrest, and that Ned had burst into the room and shot him in the wrist.
Ned, Dan, Joe Byrne Ned's Best mate and Steve Hart Dan's Best mate, took to the bush, were they built a hut, were they thought they were safe from the traps. Soon two parties, of police left from Mansfield, to hunt the Kellys down.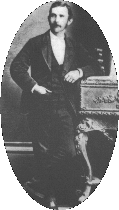 J O E B Y R N E S T E V E H A R T