J E R I L D E R I E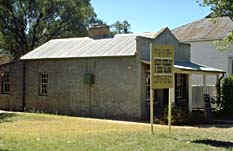 The original post office where Ned Kelly & Joe Byrne cut the telegraph lines
On Thursday the 6th of Febuary,1879,Ned,Dan,Joe & Steve crossed the Murray river, at Burramine, and rode 60 kilometres, into the colony of NSW. to the town of Jerilderie.

On Friday the 7th, they slept the night at the local police station locking the two local constables in their own lock-up.

Joe and Ned in police uniforms, escorted by Constable Richards, walked into town, the towns folk thought they were more police to help protect the town from the Kelly gang.

On Saturday the gang began to quietly gather captives into the local pub, which was right next door to the bank of New South Wales. By mid afternoon, Ned and Steve strolled into the bank and held it up.
Un fortunately, for Ned, the local printer managed to escape the from the Kelly gang, so Ned handed his 56 page chronicle of his mortal life, which Ned wanted publicly viewed in the times newspaper, the bank manager, Mr Living, promised he would see the document printed. This promise was not kept and instead a copy was handed over to the police.
To read more on Ned Kelly's " Jerilderie Letter " click here

Next the gang was riding out of Jerilderie with around 4,000 pounds.