P R E F A C E
Ask any Australian about bushrangers and he will speak of the Kelly gang. There views of the gang are either black or white. The two views are a hero whom has egged their way into Australian psyche, or your average bushranging gang, robbed banks, corrupted townships and destroyed families.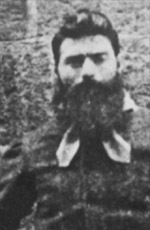 N E D L E G E N D , A N D C A P T A I N O F T H E N O R T H - E A ST
The waking of a new light has been arisen recently with the official opening of Ned: the exhibition will boost the Kelly saga to a never before reached level.
Also the release of Keith McMenomy's of Ned Kelly the authentic illustrated history has jolted the Kelly name into a inevitable high, check out our BOOK section to read the review.
There were clear signs that more could see that 91% of people polled believed that Ned had not received a fair trial when he was sentenced to death for murder.
Read the famous furious argument against Kelly the bushranger and Sir Redmond " Justice " Barry in our TRIAL section.
Ned's words on the gallows on November 11th 1880, mark his immortality. His last spoken words of recognition were " Ah well, I suppose it has come to this " and shortly after the famous " Such is life ".