On Saturday January 26th 2002, I ventured to the Old Melbourne Gaol to view Ned Kelly and Joe Byrne's Jerilderie letter. The letter contained 7,500 words and 56 pages in it's full content.
Ned Kelly and Joe Byrne wrote this document hoping for it to be published by the local printer at Jerilderie, but the printer managed to escape the gang, instead Ned Kelly handed the letter over to the bank manager, Mr. Edmond Living, whom promised he would see the document published.
Un fortunately, a copy was handed over to the police and was vital evidence in the trail of Ned Kelly 122 years ago, and the main letter was handed back to Living a disappeared for 65 years and popped up in all areas and eventually was handed over to the state library of Victoria thanks to Ian Jones.
For more info on the Jerilderie letter check out the section here
I arrived at the big iron clad gates at nine am, and met Matt Shore co-organizer of the exhibition. I donned my work t-shirt and began burning the snags on the barbeque.
The enjoyment was plentiful, I finally got to view the original letter and couldn't believe it was real.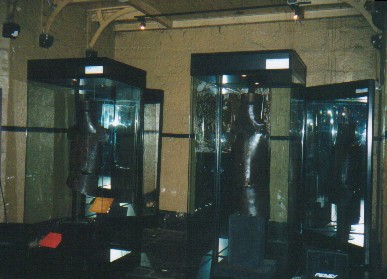 After the barbeque was all out of snags, I finally got to view Joe Byrnes armour, and to stand on the second floor and view the Kelly armour as they were at Glenrowan, never to be seen like this again.
The night came as quick as the day had gone, I met Peter Carey author of true history of the Kelly gang, and Ian Jones who signed my catalogue for Ned: the exhibition.
We were all exited about Ian Jones's speech on the letter, when the hour of seven rang out, we bustled into the hall and waited.
Angeline Baron was first guest speaker, she has studied the handwriting of Joe Byrne, and found a few interesting thing in which I recorded during the speech.
"....Joe was prone to jealousy...." Angeline continues ".....Joe turned to drugs in his state of mind, for example, on page 44 of the Jerilderie letter, Joseph was surely stoned..."
it was a very interesting, eccentric talk. Finally the second guest speaker, Ian Jones, arrived to the plate and spoke of the Jerilderie letter and how he came into contact with the document.
The hall was in silence as Ian explained at by the end the whole hall was speechless and a loud round of applause was given and the man, the expert, the referent left in a blaze of cheers.
We all returned to the gaol, and took more looks photo's and other assortments until closing time we all left a fine evening for everyone !